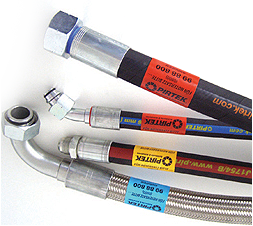 Pirtek has been supplying hydraulic and industrial hoses in Africa for over 15 years and globally for over 30 years. As the go-to company for these solutions, we've become renowned for providing fast, affordable and effective products and services. These are the top four benefits of partnering with us:
Long-standing customer reputation
The Pirtek network has earned an enviable reputation of being able to provide high quality hydraulic and industrial hoses. We source our products from leading suppliers and offer only the best solutions at cost-effective prices. Some of our main suppliers include:
Bridgestone– Japan – hydraulic hose – braided and multi-spiral
Intertraco– Italy – hydraulic hose tails – adaptors – quick release coupling (Intertraco is a Bridgestone – aligned company
IVG– Italy – industrial rubber hoses/mining hoses
Quick service, 24/7
We respond rapidly to customer needs. The Pirtek team knows how critical timelines and responsiveness is to your business, which is why we are available 24 hours per day, 7 days a week, every week of the year.
On-site service
Pirtek provides and maintains many on site workshops within the region of Sub Saharan Africa. Some of the on-site services we provide include hose assembly and fitment, vendor managed stock, surveys of plant and equipment and in-house training of personnel on key aspects of maximising hose life.
Accreditation
Pirtek is ISO 9001:2008 compliant, which demonstrates that we take quality and customer satisfaction seriously. We have also embraced the introduction and promotion of Broad-based Black Economic Empowerment (BEE) as envisaged by the government.
For more information about Pirtek hoses and assemblies, contact us today.