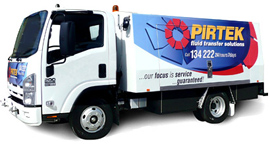 In today's tough economic climate, many people are looking for alternative ways to make money. What used to be seen as a safe, secure option (ie a 9 – 5 job) can easily lead to early retirements or even an unstable financial environment.
Franchising offers a number of benefits to entrepreneurial minded people. Not only do you get to be your own boss, but you can ensure that you are able to secure your financial future by running and managing your own business.
Pirtek is a service-orientated company, which is something unique in the African hydraulic and industrial hose market. Companies are faced with increased productivity demands and Pirtek has become the go-to company for companies who use hydraulic and industrial hoses.
While Pirtek cenres are generally managed by the owners, you will have all the backup and support you need when you buy a Pirtek franchise. For example, we can give you the option of employing an operations manager that can assist you on various levels of your business. The business formula isn't only successful in South Africa and Africa, but also throughout Europe, Australia, South East Asia and America, amongst other countries.
A further benefit of owning a Pirtek franchise is the fact that you don't need to be an industrial engineer or have prior experience of the industrial industry. We can help you with everything from product knowledge to ongoing support on how to manage your business and take it to the next level.
Contact Pirtek today to find out more about investing in a Pirtek franchise.