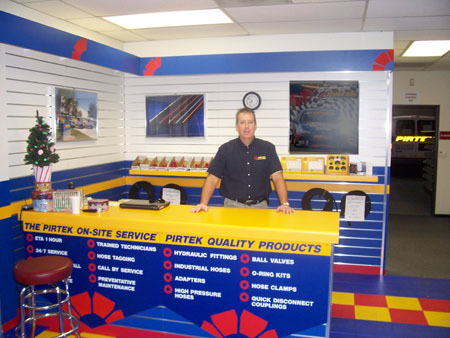 How Pirtek compares when it comes to customer service excellence
For many years, Pirtek has proved that in our line of business, it's not just about achieving our profit margins but it all boils down to providing outstanding customer service and product satisfaction to our target market. This is backed by our extensive product offering and the professional support of our qualified staff. This is why we always aim higher than expectations. Now we ask, why settle for less when you can discover a whole new dimension when it comes to fluid transfer solutions.
The implementation of our franchise network has helped us reach many areas thus ensuring that you can always rely on our accessibility at any given time or day. Our MSST (Mobile Sales and Service Technician) team together with our equipped mobile units will ensure that production is not lost by providing you with the quickest response time. Our OEM (Original Equipment Manufacturing) division targets the bulk supplying of our products within various industries.
Caring for our customers
Unlimited support to ensure a best solution is provided
Supply and demand focused to improve on customer services
Time management- because quick response will reduce down time
Organised tools and equipment by means of our equipped mobile units
Meticulous attention to details when it comes to investigation of a problem in order to provide with the correct solution
Exceptional staff training
Rapid response time
Pirtek offers a comprehensive range of fluid transfer solutions, products & services to industries including Mining & Quarrying, Manufacturing, Materials Handling, Agriculture, Transport & Logistics, Utilities, Rail, Construction & Plant Hire, Marine, Environmental Services, and Defense.
Contact us to experience our outstanding service and for further info. Contact details: +27 (0) 861 PIRTEK (747835) or info@pirtek.co.za.