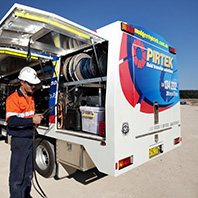 For many years, we have been providing Southern Africa's most important industries with quality hydraulic hoses. With an extensive network of 24 service centres and with our 70 mobile workshops, Pirtek remains the market leader for on-site hose replacement.
We are committed to customer service excellence and work hard to add value to the businesses and industries of our valued clients. Our teams of seasoned professional technicians work hard to set the standards for workmanship and product quality – and they continue to lead the way in the industry.
Taking the hydraulic hose industry forward
If you would like to learn why our valued customers prefer working with our mobile units, then read on:
Mobile units: Our mobile sales and service units are all designed to operate as mobile workshops. They are fully equipped with a crimping press as well as cut off saw. These are capable of manufacturing hydraulic hose assemblies on-site.
Capability: All mobile service units in the Pirtek fleet carry up to 1.1/4″ bore high-pressure hose and a wide range of hose fittings and adaptors. Certain mobile service vehicles are also equipped to manufacture 2″ assemblies on site. The service vehicles are available on a 24/7 basis to service any customer requirements on site.
24-hour availability: The mobile hydraulic hose service is available to our customers 24/7, as we know that no one can anticipate an emergency. We also understand the true cost of a hose failure. Downtime and lost production are significant costs. Our customers require a qualified hose repair service that they can rely on any time of day or night – and we've been stepping up to the challenge for many years.
These are only a few of the many reasons why our valued customers continue to opt for our value-adding mobile workshops. Our seasoned sales professionals are waiting to help you make the best investment in your company, so if you would like to learn more about our hydraulic hose services and products or would like to learn how your company will benefit from partnering Pirtek, please contact us today.