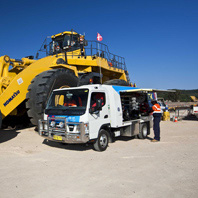 With on-site assembly and replacement services, Pirtek offers the peace of mind that comes from knowing that you're getting reliable, top-quality rubber hose maintenance. At Pirtek Southern Africa, the number one supplier of fluid transfer solutions and on-site replacement, our aim is to give you fast, effective solutions whenever you need them.
Our on-site rubber hose assembly process:
Our mobile workshops are specifically designed to enable the technician to assemble hydraulic hoses on site to a wide variety of industries, including mining, manufacturing, construction, defence, marine and agriculture, amongst others. Our technicians will assemble and install any new hydraulic rubber hose assembly.
All our service technicians are highly trained in hose assembly and installation, ensuring that your machine will operate safely and at maximum efficiency. Our technicians can advise your personnel on key aspects of maximising hose life.
In order to give you the best service possible, all Pirtek outlets operate 24 hours a day, 7 days a week.
Our on-site replacement services:
Hose maintenance is an integral part in ensuring the availability of a machine. Regular checks including preventative maintenance will increase the productivity of a machine. Whether a rubber hose is compromised due to a workplace accident or wear-and-tear, our mobile workshops will be able to get your machine operational with minimal downtime.
Reducing downtime is essential to a company's bottom line. The Pirtek mobile workshops are available 24/7 365 in 22 locations in Southern Africa. Trained technicians are on duty to provide the necessary service when required.