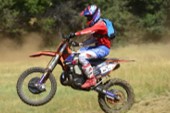 Pirtek Rider keeps the revs up!
Off-road bike rider Mauritz Meiring is competing in the National Enduro Championship series under the Pirtek Southern Africa banner.
The 2nd round of the Nationals were held at Piesangkloof 4x4 Trails near Hartbeespoort Dam. Mauritz finished 6th for the day in the National E2 Class. Having moved up from 28th on the start this was a great result as this was a difficult and rocky route, which saw many riders struggle.
Well done Mauritz. Keep the Pirtek revs up!