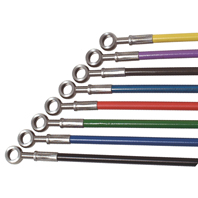 When it comes to buying brake hoses for trucks and other industrial transport machinery, it's essential that you follow these three rules:
Always buy a top-quality product. Trucks, forklifts and other transport are the lifeblood of many industries, allowing them to move their goods quickly and reliably to their destination. Buying a cheaper, unknown brand of brake hose doesn't seem problematic on the surface, but these hoses can in fact compromise your entire operation. A failed brake hose doesn't just mean more costly maintenance; it can mean loss of life as well as the loss or compromise of your products. Buying a reputable brand means peace of mind for your operations, your employees and the public.
Regular maintenance is essential. Even with a reputable brand of brake hose, regular maintenance is essential to keeping your transport equipment safely on the road and on-site. Call in an experienced technician to perform maintenance inspections on a regular basis and you'll catch small issues before they become big problems.
Partner with a reputable supplier. A reputable supplier won't just supply you with appropriate, top-quality brake hoses – they'll offer you exceptional after sales service. This includes on-site replacement services, training your personnel in day-to-day maintenance and delivering rapid mobile services any time of day or night, 365 days a year.
Pirtek Southern Africa became the number one supplier of fluid transfer solutions and on-site repairs through constant innovation, exceptional service and the supply of a wide range of top quality industrial hoses, pipes and fittings. Partner with us and ensure that your brake hoses are up to international safety and performance standards. Contact us today.