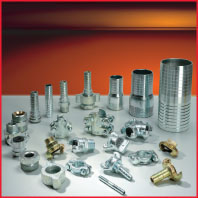 Do you have a need for hydraulic hose tags? Yes you do and here's why: we know just how important it is to acquire and install/connect the right hydraulic hoses for each application. When it comes to replacing hoses or fittings, the task can become quite confusing and tedious. First, you will need to ascertain what type of hose it is that needs replacing or repair. Then you will need to ensure you have access to all the correct information such as the part number, end orientation, manufacturing date, end fitting threads and so on.
While operators should be familiar with their equipment, it is not always possible to expect them to them be familiar with absolutely every hose, fitting and part they use or encounter. This is where hose tags become particularly useful. Hose tags are fitted to each hydraulic hose used on each application on your plant. The tag features all the details required to make it possible to instantly identify the hose in question, which translates to quick and easy hose replacement. The tags also include details such as the manufacture date, which helps with pro-active maintenance planning.
The hose tag can also include instructions and warnings for operators such as warranty information and who to call if the hose is damaged or needs replacing.
Get Your Hydraulic Hose Tags from Pirtek
At Pirtek, we present the market with a range of hydraulic hose tags that can quickly and easily attach to each hose you have in use. The Pirtek hose tagging system is designed specifically to work with a variety of hoses and provides easy tracking and identification of each hose. Our hose tags are printed in a different colour each year, to represent the year of manufacture and make ongoing maintenance even simpler. These tags can be used as a management tool to ensure easy identification, easy access of assembly details, inventory and maintenance control and supplier accountability in the event of a hose or hydraulic hose failure.
If you would like to learn more about hydraulic hose tags, contact us at Pirtek via email or telephone today.