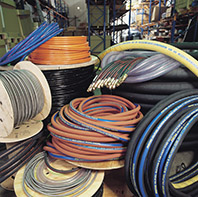 Cheaply produced pressure hoses can fail after very little use. It is therefore important that you invest in the best possible options for your machinery – in order to avoid mechanical failure and unnecessary costs associated with maintenance and repair. The following piece will take a closer look at why purchasing cheap pressure hoses can cost your business in the long run.
Damaged hoses can essentially lead to mechanical failure
Machinery and equipment which makes use of industrial hoses and hydraulic hoses rely on these fluid transfer vessels in order to operate optimally. The premature failure of these hoses can lead to the mechanical failure of your equipment, leading to massive costs down the line. Investing in quality Pirtek hoses can increase the longevity of your machinery and equipment, thus saving you time and money, while keeping productivity up.
Purchasing a hose that isn't specifically designed to work in certain conditions can prove quite detrimental
Cheap, low quality hoses are often not designed to work under certain conditions. For example, a hose that is constantly exposed to high temperatures will need to be specifically engineered to perform under those conditions. If not, then such items will, in all likelihood, not last very long compared to reputable counterparts. Failure can cause machine damage and possibly even lead to injuries or fatalities. Pirtek is a supplier that stocks a vast range of hoses, all designed for specific applications and operating conditions.